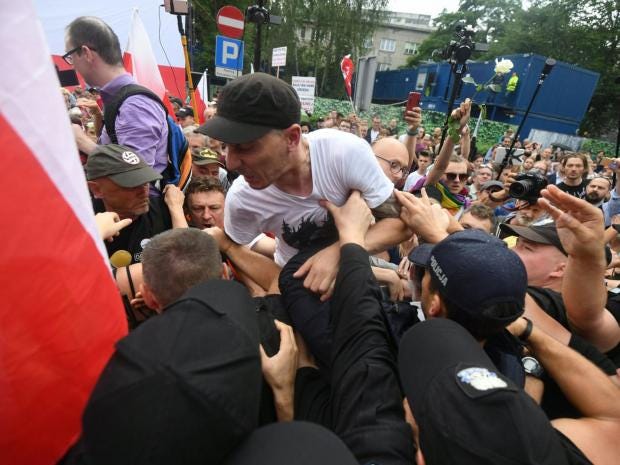 Protest against changes in the judicial law and the Supreme Court in front of the Sejm building in Warsaw
Bill submitted by the ruling Law and Justice party (PiS) passes in parliament's lower house after three days of debate and protests
The President of Poland has been urged to veto a bill passed by lawmakers in the country that would give parliament the power to appoint Supreme Court judges.
Guy Verhofstadt, the President of the Alliance of Liberals and Democrats for Europe in the European Parliament, has called on President Andrzej Duda to take action and said the European Commission should trigger the EU's Article 7 if the issue is not resolved.
The Article has been often described as a "nuclear option" and can lead to the suspension of a member country's voting rights.
"The European Parliament made it clear earlier this week that these new laws are incompatible with EU Membership and would irredeemably weaken Poland's future place in the West," Mr Verhofstadt said.
He also took to Twitter to claim the "blitz against Polish judiciary [was] completed".
Blitz against Polish judiciary completed: law on #SupremeCourt adopted. President Duda must veto it, otherwise let's trigger #Article7
European Council President Donald Tusk, who is also a former Polish prime minister, called for an urgent meeting with President Duda to discuss the "political crisis" in the country.
Mr Tusk described the move as backwards backward and said it went "against European standards and values".
"The European Union is not only money and procedures. It is first and foremost values and high standards of public life. That is why a wave of criticism of the government is rising in Europe and in the whole West," Mr Tusk said.