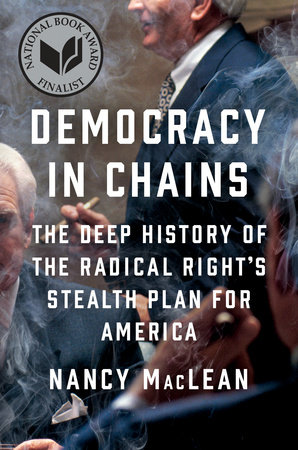 The Deep History of the Radical Right's Stealth Plan for America
Nancy MacLean is an award-winning scholar of the twentieth-century U.S., whose new book, Democracy in Chains: The Deep History of the Radical Right's Stealth Plan for America, has been described by Publishers Weekly as "a thoroughly researched and gripping narrative… [and] a feat of American intellectual and political history." Booklist called it "perhaps the best explanation to date of the roots of the political divide that threatens to irrevocably alter American government." http://bit.ly/2oJklds
The author of four other books, including Freedom is Not Enough: The Opening of the American Workplace (2006) called by the Chicago Tribune "contemporary history at its best," and Behind the Mask of Chivalry: The Making of the Second Ku Klux Klan, named a New York Times "noteworthy" book of 1994, MacLean is the William H. Chafe Professor of History and Public Policy. Her articles and review essays have appeared in American Quarterly, The Boston Review, Feminist Studies, Gender & History, In These Times, International Labor and Working Class History, Labor, Labor History, Journal of American History, Journal of Women's History, Law and History Review, The Nation, the OAH Magazine of History, and many edited collections.
Professor MacLean's scholarship has received more than a dozen prizes and awards and been supported by fellowships from the American Council of Learned Societies, the National Endowment for the Humanities, the National Humanities Center, the Russell Sage Foundation, and the Woodrow Wilson National Fellowships Foundation. In 2010, she was elected a fellow of the Society of American Historians, which recognizes literary distinction in the writing of history and biography. Also an award-winning teacher and committed graduate student mentor, she offers courses on post-1945 America, social movements, and public policy history.
Defend Nancy MacLean from the Kochsuckers
Here's how you can help if you want to stop the suppression of my research and the reputation assassination underway:
• Google me and the book and click on the REAL listings (e.g. my department page and the actual Viking book page or reviews by honest reviewers) to drive them above the paid "top stories" position.
• Go to DEMOCRACY IN CHAINS on Amazon, and click as "helpful" honest reviews by real reviewers and scholars who have read the book. The operatives are juking the Amazon stats so that their hit jobs (by people who in nearly every case never read the book) come up first by the number of "helpful" votes they got, no doubt from their fellow apparatchiks.
Oh, and one of them—under the name NPalgan2–also set up a wiki site on me (s/he also added criticism of another academic, who wrote on mass incarceration). We are trying to fix it now. And UnKoch My Campus is posted the undisclosed conflicts of interest.
People: this is real. Please help, if you're willing, and then share this post with any journalists you know and anyone concerned about the Koch's power to undermine our institutions.